If you purchased or upgraded PHPRunner, or ASPRunner.NET less than one year ago logon to control panel and find download links and registration keys under 'My purchases'. There should be 'Reg info' link next to your latest upgrade purchase.
Note: Software maintenance coverage needs to be continuous. If your last purchase or upgrade were more than one year ago you have till June 20, 2019 to renew your maintenance. After that date you will have to purchase PHPRunner, ASPRunner.NET or ASPRunnerPro at the full price.
New customer purchase links:
PHPRunner
ASPRunnerPro
ASPRunner.NET
Upgrade/maintenance renewal links:
PHPRunner
ASPRunnerPro
ASPRunner.NET
What's new in version 10.2
Collapsible menu bar
Hide/collapse menu bar on the left. This feature is inspired by AdminLTE template.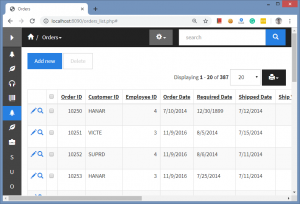 Smart caching of JS, CSS files
Why this is important? CSS and JS files will be cached by your user's web browsers. When you make changes to CSS or Javascript your users won't see those changes till they clear the browser's cache. Now this will be taken care of automatically.
New images display options
A whole bunch of new options here. We like masonry view the best.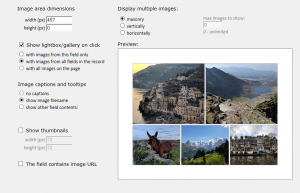 More options related to additional pages
– option to choose which of additional pages to show in the dashboard
– option to choose which of additional pages to show in Lookup – List with search and Add on the fly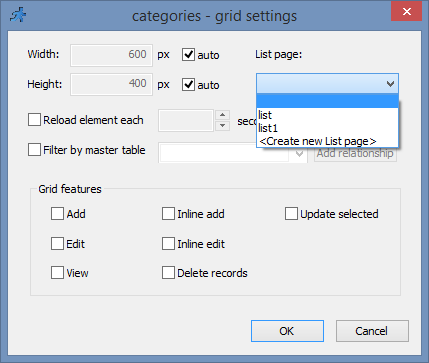 New build notifications
Our software will tell you when a new build is available. Should have done that a long time ago
DATE control new options and API
We added an option to disable certain days of the week, only allow to choose future or past dates, etc. There is also an API with options like prohibiting all past or future dates and more.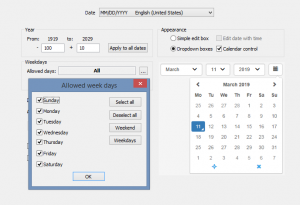 Minor improvements
– option to insert NULL into the database instead of empty string
– HTML head section customization. For instance, in PHPRunner 10.2 you can edit C:\Program Files (x86)\PHPRunner10.2\templates\pd\headers.htm file and these changes will be applied to all pages in the project. Later we will add a more convenient way to modify headers.
To be added in maintenance release soon
– option "Hide column on the List page if the column is empty"
– PDF API. Create PDF and save it to a hard drive. Create PDF and send it via email etc.