It is about time we talk about version 10 of PHPRunner, ASPRunner.NET and ASPRunnerPro. We expect beta version to be available in November and stable version will be released before the end of the year.
Make sure that your software maintenance is current. Otherwise you will have to purchase version 10 at the full price.
The most interesting new feature in this update is Page Designer which will complement and eventually will replace the Visual Editor. This is quite a big change and before we talk about new functionality I need to explain why this change was required.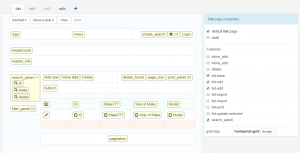 Visual Editor for many years was used by the top digital agenices in Australia as a primary way to customize the appearance of pages but we were hitting its limitations more and more often lately. We tried to introduce workarounds like Layout Editor and Free-Form mode but those were half measures.
HTML is not a suitable medium for this job. When you mix HTML with your own template tags things tend to break.
Visual Editor is powered by Internet Explorer editing engine which has minds on its own and doesn't always cooperate with us changing HTML behind the scene, shuffling HTML attributes etc.
After switching to Bootstrap things like drag-n-drop in Visual Editor became even more difficult and we were often had to suggest make certain changes right in HTML code which sort of defeats the purpose of WYSIWYG.
Page Designer is a grid-based design tool that is supposed to take care of above issues plus adds more functionality.
Multiple pages of the same type i.e. two or three list pages based on the same table. Previously you had to create a custom view or two that were more difficult to manage and also created unnecessary pages.This will be useful in many scenarios. For instance you need to display a button on the list page but don't need to see it when the same list page is shown in dashboard. Or you need to design different list pages with different set of columns for different users. Now you can do this.
Page drafts. You can consider them working page copies. If page is marked as a draft it won't appear in generated application. Using drafts you can quickly switch between two versions of the page.On a screenshot below you can see the default list page template (list), an additional list page layout (list1) and a draft (list2). It also shows you how easy you can add a field to grid and to search or to filter panel. No need to switch to another screen in the software to choose what fields will appear on each page.

Cells and object properties. Made much easier in Page Designer to change visual properties of any cell, field or any other object.
Grid types. You can switch between grid types keeping the rest of page intact.
Controlling where buttons appear. Buttons can appear standalone or in dropdown. Here an example of moving 'Inline Add' and 'Delete' buttons to 'More' dropdown.
Customizing mobile version behaviour. For any button, search or filter panel you can choose if will be shown in mobile mode or hidden in mobile mode or only visible when mobile menu is open. There also will be an option to create a separate page layout for mobile mode.