Version 10. What takes so long?
Categories
PHP
First of all - we are still working on version 10 and getting closer every day. We are now close enough to publish a date that is more or less accurate. We expect beta version to be available soon.
What takes so long? Apparently we underestimated the scope of work required. Also we have seen lots of potential in new functionality we adding and it didn't make sense to stop halfway. We originally planned to have Page Designer as an addition that will help design forms like Add, Edit and View. Then we quickly realized that it should be applied to all other pages. Then it become obvious that it should completely replace Visual Editor (we'll keep it available for old projects). More than that, some screens in wizard like 'Fields order and totals' also become obsolete and will be eliminated. We are moving towards a real IDE.
So I want to thank you everyone for being patient! I hope it worth the wait.
A little bit of history. We made lots of mistakes on the way. To be honest I'm surprised we made it that far. Our first product was ASPRunnerPro, then we developed ASP.NET version. PHP was seen as a language that mostly appeals to Linux enthusiasts and there is no money there. PHPRunner was the last one to be released and it quickly became our bestseller.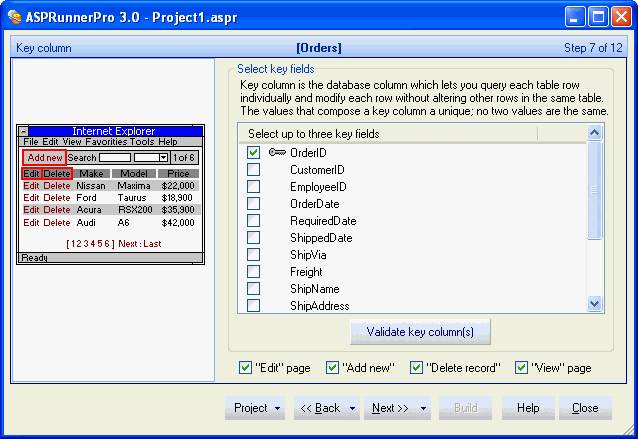 First versions of Runner family were quite simplistic and didn't offer much options to modify the visual appearance. The first attempt to change that was template editor. You could modify source files to change the appearance. That wasn't very useful. If you modify edit.php file, for instance, those changes to be applied to all Edit pages in your app. If you upgrade to a newer version you have to discard all changes made in previous version.
The next step was the separation of server side code and visual templates. This allowed us to introduce a Visual Editor that was powered by Internet Explorer editing engine. It worked fairly well but there issues that were not possible to fix. We tried band-aid solutions like Free-form mode and they brought as many new issues as they fixed.
We certainly hope that Page Designer is a bold step in the right direction. We no longer mess with HTML. Page Designer offers Excel-like grid to position and move page elements. HTML templates are generated on the fly when you build your project. No HTML in Visual Editor - impossible to break the template. Win-win.
In software development sometimes you cannot just keep piling new features on the top of outdated base. Once in a while you need to stop and lay a new foundation. It takes time but benefits all of us on the long run.
Joel Spolsky once said that Good software takes ten years to build. Well, it is easy for a smart guy like Joel. We already spent almost fifteen years building our software and just getting closer. We would not make it that far without your help. Thank you!