New features in PHPRunner6.0/ASPRunnerPro7.0
PHP
We are taking yet another step toward creating the best-in-class code generator. Here is what you can expect to see in the next release of PHPRunner6.0/ASPRunner7.0.
New layouts
Let me start by introducing the layout elements.
Blocks
Blocks are high-level page elements. A typical List page consists of four blocks. Some blocks can be empty.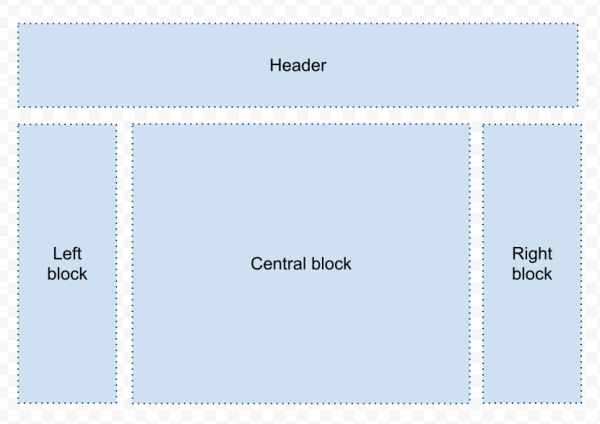 Here is a typical Amsterdam layout List page. Note that the right block is empty. (image is clickable)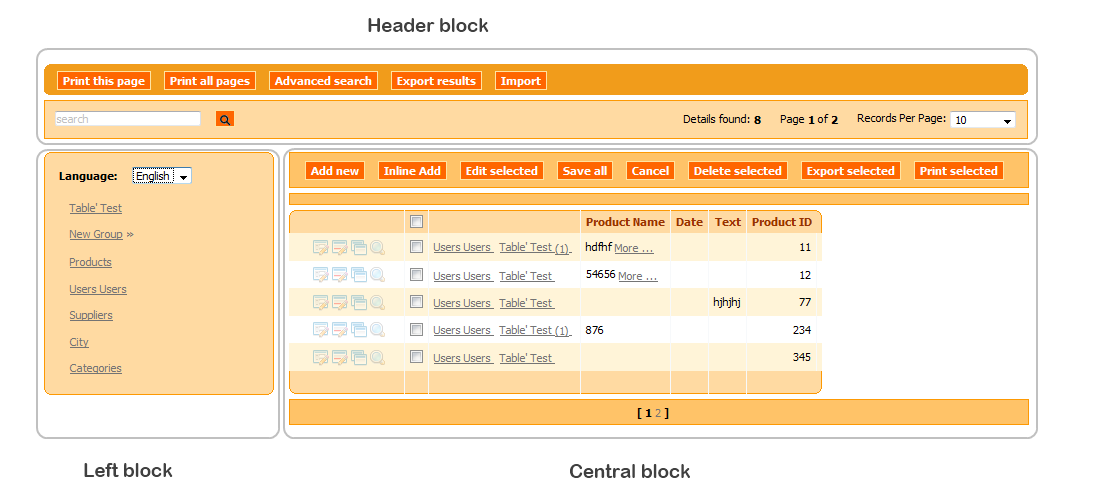 Containers
Containers are visual elements within the blocks. Each container has a border, background color and other properties. Containers are always stacked inside the block one under another.
On the pictur eabove  the header block consists of two containers (buttons and search), left block has one container and the center block has four containers (buttons, message placeholder, grid and pagination).

Bricks
Bricks are page elements that carry a certain functionality. Each container hasone or more bricks that are arranged either vertically or horizontally. A typical brick would be a search box, pagination control, the grid, CAPTCHA, "records found" etc.

Container 2 of the Header block contains four bricks: search, details found, pages, and records per page.
Internal layout structure
The purpose of new layouts is to simplify and improve the page modifications. This will allow the users to easily create their own templates as well as import existing templates such as Wordspress or Joomla themes. Layout structure doesn't contain any HTML code- only  blocks, containers and bricks definition.
Here is a standard Amsterdam layout page again.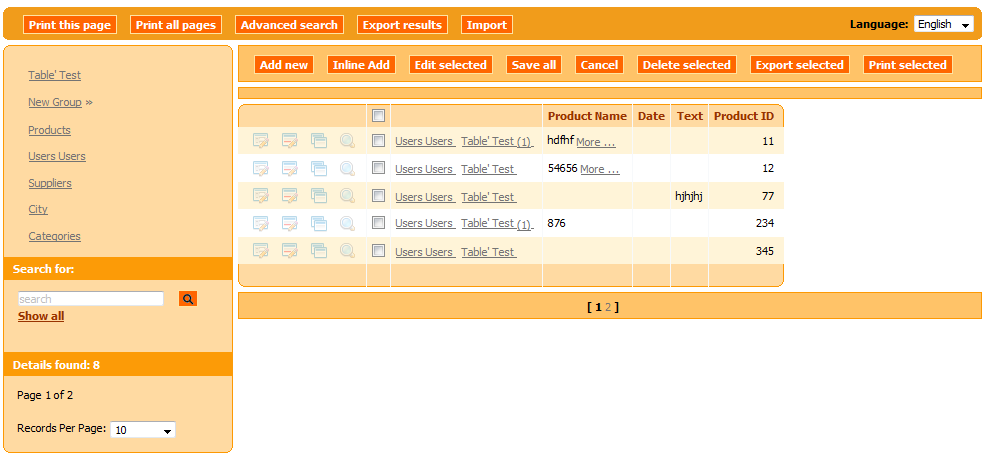 Here is how this layout is represented in pseudocode.
beginblock top
   begincontainer 1
      brick hl loggedas
      brick hl toplinks
   endcontainer
endblock 

beginblock left
   begincontainer vertical 2
      brick color1 vmenu
      brick color2 vsearch1
      brick color1 vsearch2
      brick color2 details_found
      brick color1 page_of
      brick color1 recsperpage
   endcontainer
endblock 

beginblock center
   begincontainer horizontal 3
       brick left addbuttons
       brick left recordcontrols
   endcontainer
   begincontainer horizontal 4
       brick center message
   endcontainer
   begincontainer grid 5
       brick hgrid
   endcontainer
   begincontainer horizontal 6
       brick center pagination
   endcontainer
endblock
A few notes:
brick hl loggedas – login brick, horizontal, left aligned
brick hc pagination – pagination, horizontal, centered
begincontainer grid 5 – grid container ( a special type of container that stores the grid brick)
Based on this pseudocode PHPRunner generates HTML files and uses it to build the pages. When you design a new layout you can either use the pseudocode or modify the HTML layout file.
As you can see, the layout modification becomes very straightforward. You can easily move any container or brick to another block. For instance, you can rename "beginblock left" to "beginblock right" to move the menu and the search panel to the right.
Style Editor
New version is going to introduce the Style Editor where you can modify the visual appearance of each layout element and instantly preview the results.  Each style can be applied to any layout.
Mobile Template
In this day and age not having a mobile version of your website should be considered a crime. We'll be addressing this issue in PHPRunner 6/ASPRunnerPro 7. There are still some unanswered questions like 'should we generate a mobile version of the website automatically or there needs to be a separate project that uses mobile template'. We'll keep you posted on the progress in this area.
New Enterprise Edition features
We plan to extend the Enterprise Edition by adding a couple of heavily requested features:
– Active Directory integration. Dynamic permissions tied directly to AD.
– Option to encode the data in selected tables and fields
Miscellaneous
There will be other new features and improvements in this version as well.
One of them is intellisense in the Events Editor. For those who are not familiar with modern IDEs, intellisense is a convenient way to access the functions' descriptions and variables. The Events Editor recognizes the functions and variables and will pop up the function description or the list of available variables to choose from.
Here are a few examples:
Data Access Layer, database field names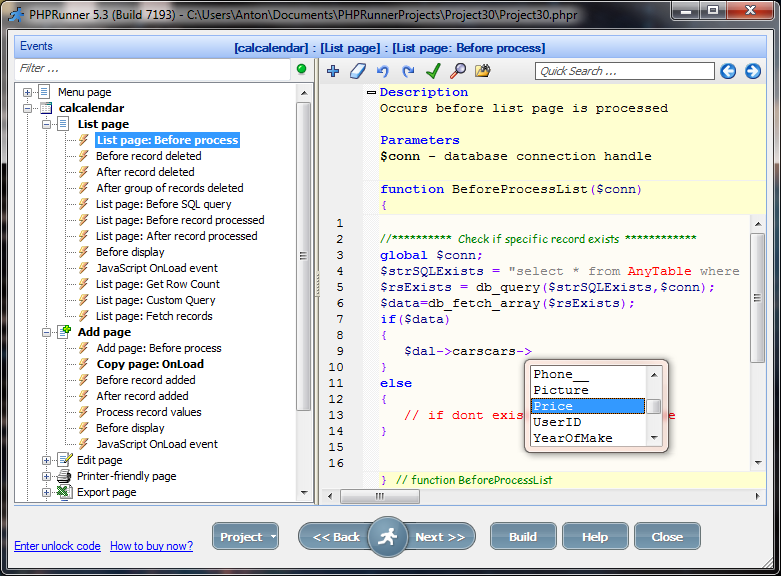 PHP functions
Javascript API functions
Field names
Localization
We have started the translation of PHPRunner/ASPRunnerPro to other languages. If you are PHPRunner or ASPRunnerPro customer and willing to help us translate software into your language drop us a note at http://support.xlinesoft.com.
Release date
The exact dates of the new release have not been finalized and will be announced as soon as become available. Subscribe to RSS feed to stay in touch.