Win cash prizes creating new application themes
The contestants are asked to submit themes created in PHPRunner/ASPRunner Style Editor.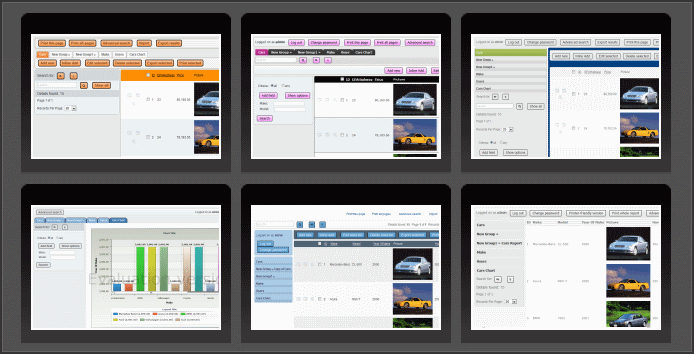 Contest rules
To participate in the contents simply create a unique theme using ASPRunner or PHPRunner. The contest will start on September 15th, 2011 and run until September 23th, 2011. Our judging panel will determine the best themes. The winners will be announced on the website and via email newsletter on September 26th, 2011.
We are looking for creativity and originality as well as themes that add color and overall appeal to generated web applications.
Participation is free. No purchase is necessary. However, each participant can submit no more than two entries.
All submissions will become the property of xlinesoft.com. We reserve the right to include any of the submitted themes in the ASPRunnerPro/PHPRunner software, RunnerExchange marketplace or other products.
Main prizes
10 best submissions will receive $100 each. If you send two entries and both get selected – your prize will be $200.
How do I create a theme and submit my work?
1. Download the latest beta of ASPRunnerPro 7 or PHPRunner 6 and install it. The current build is 9157.
2. Create a new project, add several tables, create a hierarchical menu, enable login page. The idea is to create a project that covers the most design areas to help you build a complete theme.
3. Proceed to the Style Editor screen, choose a Style and Color Scheme as a starting point and click 'Customize'. Change colors, fonts, borders etc. until your theme looks exactly the way you want it.
4. Make sure your theme looks good with all layouts i.e. make sure you setup both horizontal and vertical menus and submenus. We also recommend building the application and running it in the browser.
5. Style Editor creates a copy of the style and color files in your project folder. For example, if you started customizing "Fancy" style and "Orange" color scheme the Style Editor creates files Fancy1.style and colors\Orange1.color under project folder.
If your project name is Project1 the files you are looking for are: C:\Users\Documents\PHPRunnerProjects\Project1\styles\Fancy1.style and C:\Users\Documents\PHPRunnerProjects\Project1\styles\colors\Orange1.style
Note: on Windows XP folder with projects is typically located under My documents\PHPRunnerProjects
6. Proceed to our helpdesk and send us those .color and .style files. You may want to rename style and color files giving them more meaningful names.
Where do I draw inspiration from?
There are multiple websites such as www.oswd.org and www.freewebsitetemplates.com offering free html templates with a large number of interesting and visually appealing page styles and color schemes. That should give you a great starting point.
What is a theme?
Theme is a combination of the page style (.style file) and color scheme (.color file) created in ASPRunner/PHPRunner Style Editor.