Events are the fragments of PHP code executed before or after record was added, edited, deleted, when new user registers etc. Therefore events allow you to define some actions that will be activated when certain conditions are met.
Here are a few examples of some common events:
•send an email which contains the data from a new record, or shows changes to an existing record;
•save data in another table;
•check record uniqueness;
•show related to current record info.
Events can be divided into global and table events. Global events are not specific to any table or view. Table events belong to a table or a view.
1. Go to the Events page.
2. Select an event from the tree in the left pane. To show events with the actual code only, click the

button. To filter events by the event name, use text field above the events tree.
After you selected the event, on the right pane you will see definition of the function that implements selected event and description of the function parameters. To hide the parameters description click

button.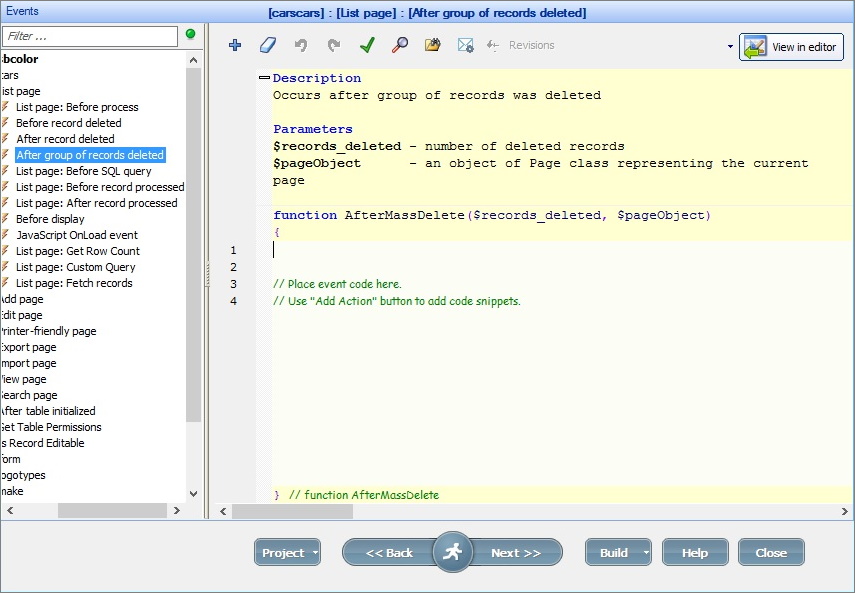 While you are in Event Editor or in Editor press and hold CTRL button and scroll your mouse wheel to increase/decrease font size.
3. Add your own PHP code or click

button to choose one of the predefined actions. More info about predefined actions and sample events with code snippets. Read what common parameters you can use in the events.
Event editor's toolbar description:
| | |
| --- | --- |
| Button | Description |
| | Allows to add one of the predefined actions. |
| | Erases the event code. |
| | Reverses the last operation. |
| | Reverses the last "Undo" operation. |
| | Checks the event code syntax. |
| | Opens Search and Replace dialog that allows to search and replace within an event or within all events. |
| | Opens Find All dialog. |
| | Displays revision history panel. |
4. Choose one of the predefined actions.
5. Modify sample event code by putting the correct values instead of the values colored in red.
Example: in the sample code shown below insert:
•email address instead of "test@test.com" and "admin@test.com";
•email message instead of "Hello there\nBest regards";
•email subject instead of "Sample subject".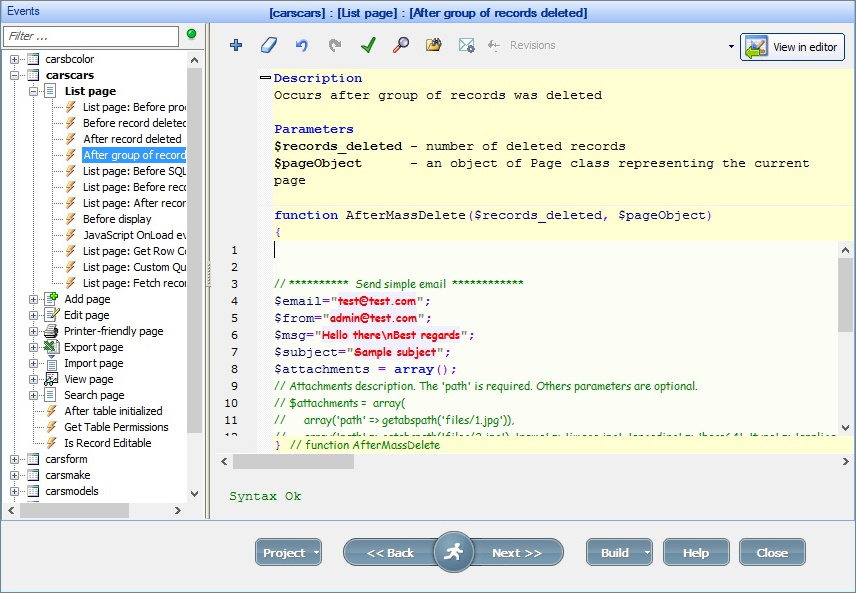 Note: You can add more than one action to the event.
To edit the event, select event from the tree and modify PHP code. To delete the event, select event from the tree and click

button.
You can track all changes made in Event Editor, review and restore any revision. To see revision history, click Revisions button.
Click Show changes at the bottom of revision panel to see changes between current and previous revisions. To restore any revision, select that revision and click Restore revision.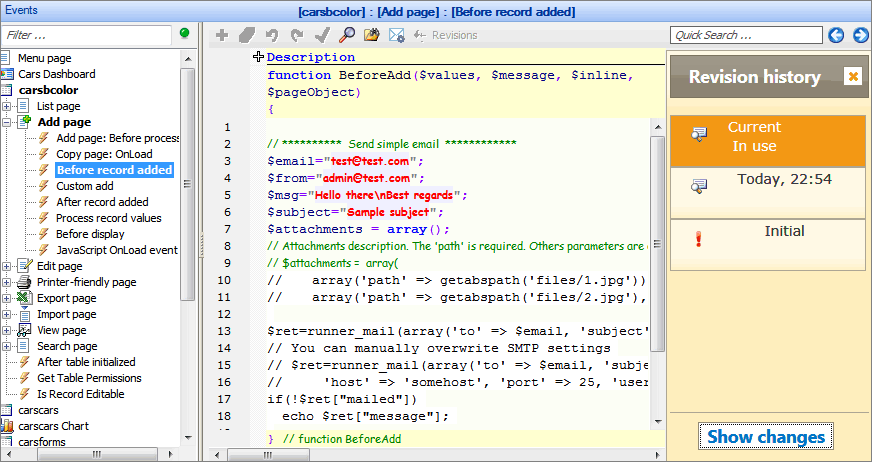 Intellisense is a convenient way to access the functions' descriptions and variables. The Events Editor recognizes the functions and variables and will pop up the function description or the list of available variables to choose from.
Here are a few examples:
Data Access Layer, database field names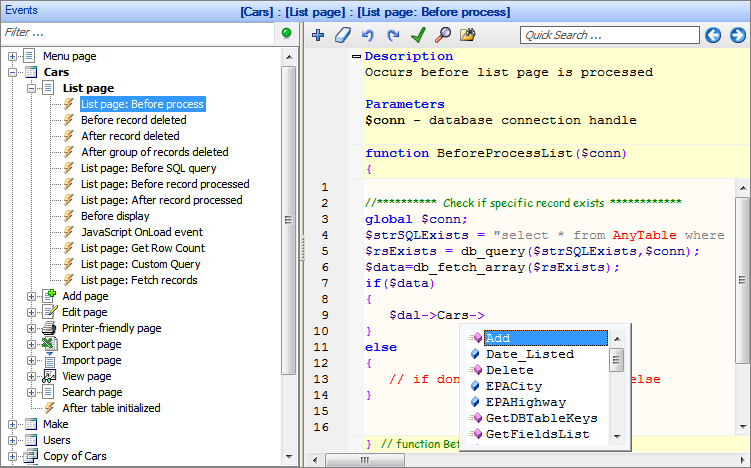 PHP functions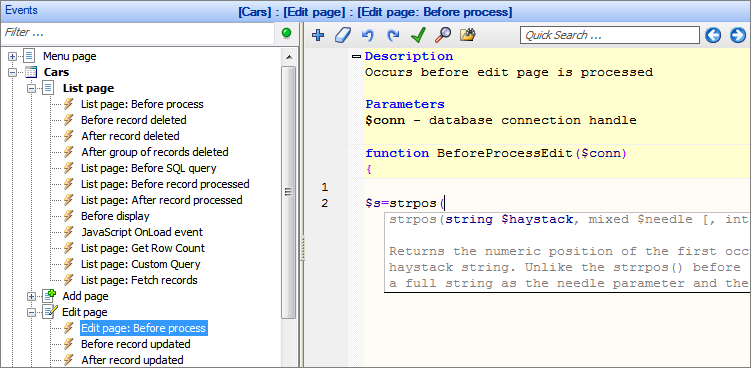 Javascript API functions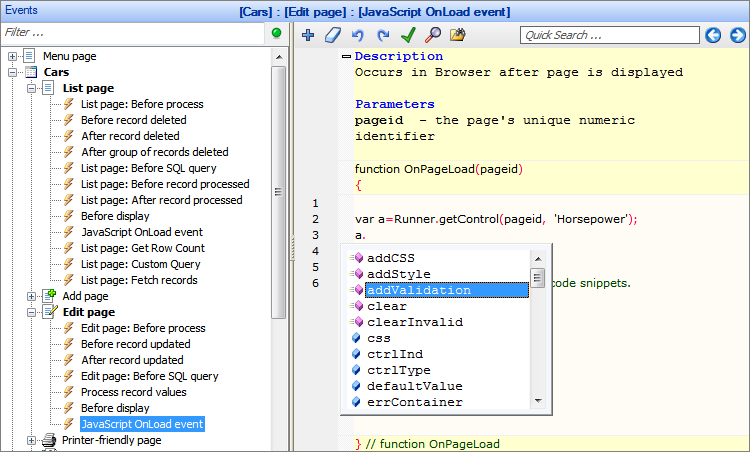 Field names