The Menu Builder lets you organize your tables and views into multi-level cascading menu for quicker navigation. This feature is particularly useful if you have a large number of tables.
Once a project is created, menu consists of tables selected for the current project. Depending on the selected layout menu will appear horizontally or vertically. On this stage menu is single-level. More info on selecting layout.
To open Menu builder, go to the Tables page and click
.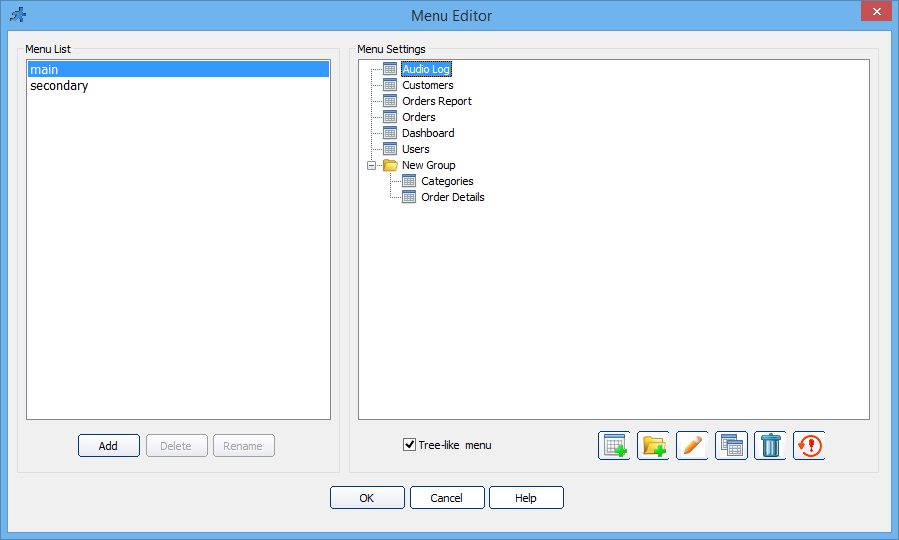 You can change already created menu entries by double-clicking them, using Edit item button or selecting Properties with right-mouse button. You can add new groups and links. Notice that group can also include the link or serve just as folder for other groups and links.
Note: You can always change the type of any menu entry from link to group and vice versa.
Delete button on the right panel deletes currently selected menu item. Reset button resets menu to its default state - as if project and menu was just created.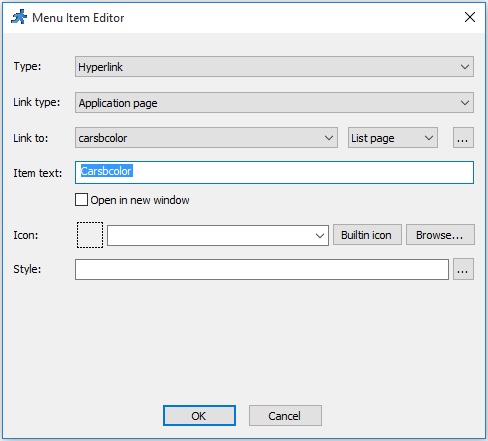 While adding or editing a link you are able to specify the following link attributes:
Type - Select between a hyperlink or a group.
Link type - Select between PHPRunner page or External page.
Link to - If Link type is set to External page, then add link to any web page. If Link type is set to PHPRunner page, then firstly select a table within your project and then one of pages that are available for selected table. Usually, you can choose between:
•List page - displays data from the table;
•Add page - allows to add new record to the table;
•Search page - provides advanced search for a data in the table;
•Print page - prepares user-friendly page with data from the table for printing.
More info about what kind of PHPRunner pages you can create and use.
Click '...' button next to the page type list box to set link parameters. Example of link parameter: orderby=aDescription. The link with parameter is carsbcolor_list.php?orderby=aDescription. If you want to display the Country Sales Report order by the Sales figures you can set the parameter to orderby=dSales. If you have more complex parameters the best way to proceed would be to copy the parameter string from the application URL and paste it into the parameter dialog.

Note that user group permissions are applied to the internal links (PHPRunner pages) and not applied to the external ones.
Link text - Link text will be displayed as menu item title. If multilanguage support is turned on in your project, you will see Multilanguage button that allows translating link text into several languages. More info on multiple language support.
Icon - select an image that will displayed before menu item title.
Style - Set menu item text style by adding custom CSS style description. You can add several CSS properties using semicolon between them.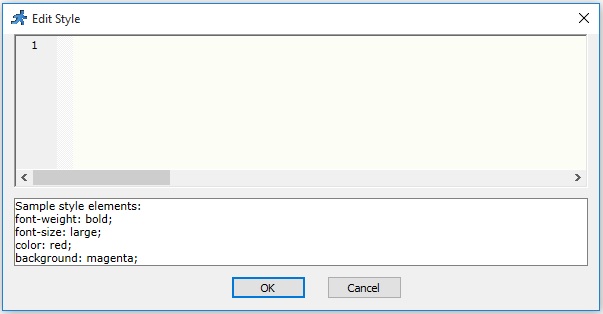 Here are several examples of how you can modify menu item text style:
•font-size:12px; color:red
•font-size:200%; font-weight:bold
•font: 12px italic; border: solid
•color:rgb(255,0,0); background-color:black
•border: dotted red 2 px
Open in new window option allows opening the links that compose a menu in new browser window.
To create a cascading menu, create new group(s) and drag and drop already created menu entries into that groups building cascading structure or create new ones.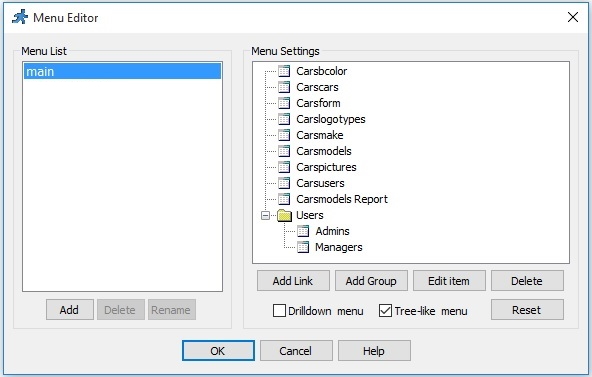 For layout with vertical menu the Tree-like menu check box allows to display cascade menu that expands/collapses menu folders.

The Drilldown menu option might be handy with a multi-level hierarchical menu.
Instead of displaying the whole menu structure on each page, the drilldown menu shows only the current submenu and its children.
The Breadcrumbs control helps the user to determine the position of the page in the application hierarchy.
For example, with the following menu structure: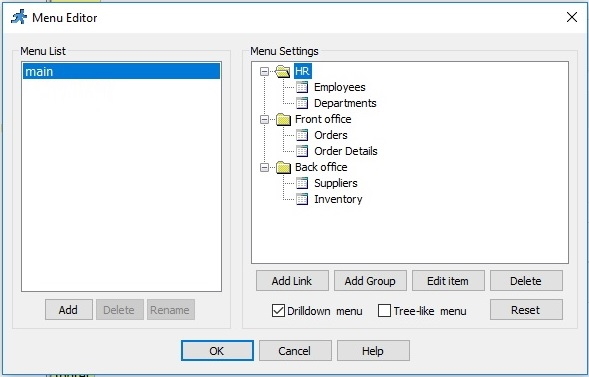 Without the Drilldown menu option you'll see the same menu on each page:

With the Drilldown menu option you'll see this menu on the Employees page:

And this one on the Orders page:

Welcome page is the first page you see in browser. You are able to choose a several most important menu items and display them on start page along with short description. To customize its appearance, choose "welcome_page" in the Menu Builder.
If you use the bootstrap layout, it will look like this:
Besides the possibilities to add links, groups, create cascading menu, you can alter icons, color, description etc. of your welcome page.