Active Directory authentication allows users to log in to the generated by PHPRunner applications if they have an account in an Active Directory domain. You need to define the Active Directory domain and server. When logging in the login name and password are checked against Active Directory. In the simplest use case no additional configuration is needed.
Note: Active Directory authentication feature is available only in the Enterprise Edition of PHPRunner. See Editions Comparison.
Login automatically check box enables Autologon functionality: if a person is already logged into Windows, he/she will be automatically logged into the generated application. To use Automatic logon, make sure Windows Authentication is enabled in Internet Information Services (IIS).
Active Directory authentication and Permissions
You can use Permissions feature along with Active Directory authentication. Click on Permissions and enable the Use Dynamic Permissions check box. You need to choose tables which will store permissions and create admin user. To add admin user, click Add admin user and then Search. You will be asked username and password to connect to Active Directory and then you will be able to select a group or groups that will have admin access.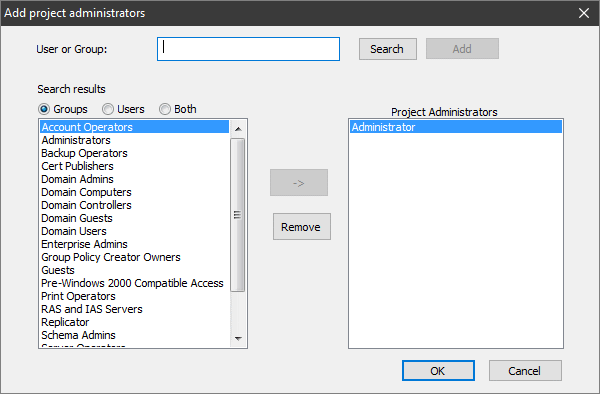 If you enabled Login automatically and Use dynamic permissions check boxes, you also need to specify domain user login and password.
Build your project and login as admin to the generated application. In Admin Area on Admin Rights page you can add groups via Add Group and assign permissions to them. Note that you can not create groups manually since they are stored on the Active Directory server and should be modified there.