Desktop applications? Are you nuts?
What if I told you that PHPRunner can also build a regular desktop applications? Applications like Word or Excel, that can be installed on any Windows machine, require no Internet connection and zero setup. Something like a screenshot below.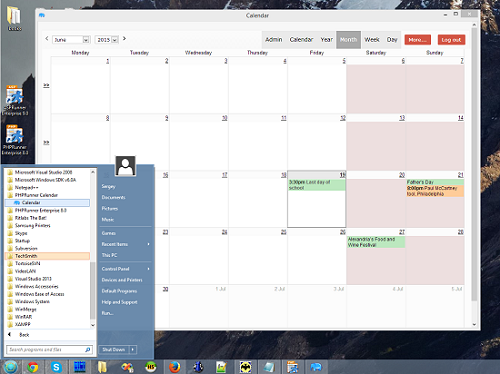 Of course, why would you need a desktop application when you can just build a web application and send user/customer a link? Sounds outdated and unnecessary and I could not agree more. Still, I can think of a few scenarios where desktop application still can be useful.
1. You have a client at remote location with no or spotty Internet access. Instead of setting up and configuring a local web server for them just package your PHPRunner app as dekstop app, send them a link to desktop app and have them up and running in minutes.
2. You have develop and app for your client where they need to access some very sensitive info. If they run this app using the same web browser they use for regular web browsing there is a chance that some malware can be stealing their passwords. Building a single-purpose deskop app solves web browser security issues
Enough talking though. Here is the desktop version of Calendar application. Download it, install it, logon as admin/admin. And let me know what you think. The main question: is that something that can be potentially useful for your business? Let me know.